The Grayl is fast, easy to use, and it's packed with features. Fill, press, and drink! That's the nuts and bolts of making clean, great-tasting water.
Requires zero setup time and makes 24 fl. oz. of clean drinking water in a blazing fast 8 seconds (5L/min) for stealth on-the-go filtration and purification. GeoPress provides safe drinking water anywhere on earth with unrivaled ease, speed & convenience.
UltraPress® fits into any pack pocket (or cup holder), no setup time, and makes 16.9 ounces of clean purifier water in a fast 10 seconds (3L/min). On-the-go filtration and purification for the hiker, backpacker, hunter, or global traveler.
The original purifier that put us on the map. It's compact and provides global protection from waterborne pathogens pesticides, chemicals, heavy metals and microplastics in just fifteen seconds.
HOW TO USE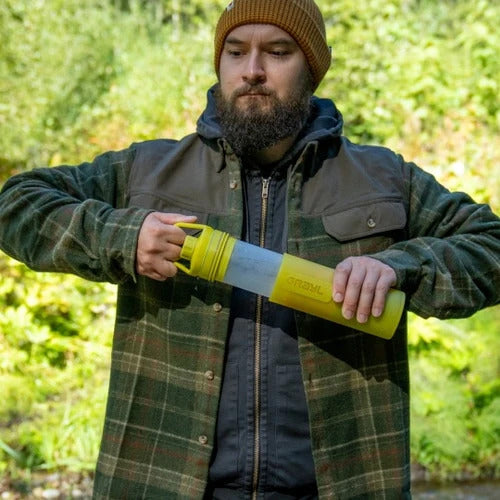 PULL APART
Grasp the Inner Press with one hand and the Outer Refill with the other, then pull apart. A quick twist helps.
FILL FROM ANY SOURCE
Scoop from a stream or lake, or fill from any bathroom sink or rustic hostel tap.
VENT THE CAP
Twist the SimpleVent™ cap 1/2 turn to allow air to vent during purification process.
PRESS TO FILTER & PURIFY
Utilizing your body weight, press with steady downward force, palms on either side of the cap.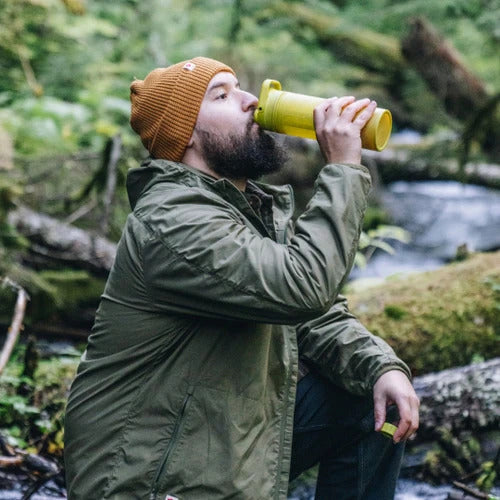 DRINK CLEAN WATER
Ridiculously fast and easy; makes safe drinking water in just a few seconds - anytime, anywhere!
EXTRA WATER STORAGE
Bring an extra bottle or hydration reservoir to store larger capacities of clean water.